Find out more about our investment plans and projects in North Glasgow.
Multi-Storey Flats – District Heating and Investment Project
ng homes have now replaced the heating systems to 592 properties within six of the multi-storey blocks in Springburn. The installation of a new district heat network, using Air Source Heat Pumps, have now made them some of the most energy efficient blocks in the UK.
Phase two of the District Heating Project commenced in June 2022 with a further seven multi-storey blocks in Springburn benefiting from the installation of the new system. Work concluded on phase two in late February 2023.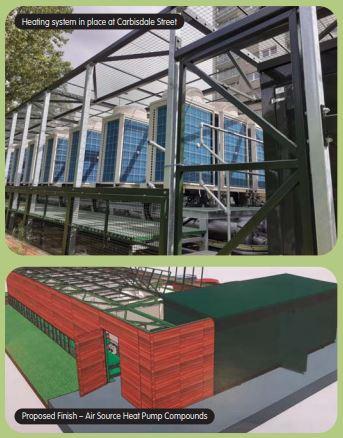 Fire Compartmentation
While work is ongoing in our multi-storey flats around theheating systems, we are moving forward with other upgrades around fire safety.
Fire compartmentation - stopping the fire spreading from one unit to another within a block of flats - is an important part of the passive fire protection within the overall fire safety system of a building and is critical within multi-storey flats. It is achieved by dividing the properties into 'compartments' through using fire doors as well as having floors and walls constructed using fire-resistant material.
The wall which encloses the pipework and services which travel between flats is located within bathrooms in the multi-storey flats. Work to remove this wall and replace it with fire-resistant material began September 2022 and is due to run through to early 2024.
If you have any questions regarding this work, please speak to your Housing Officer.
Work is also underway or recently completed on a number of other projects including:
Power-assisted doors – Hawthorn Court
The existing door entry system was difficult for residents to operate - this project will see new power-assisted doors and video-linked handsets installed which will greatly improve the ease of access for residents. Work due to start soon.
Fire Panels and Alarm System – Hawthorn Street complex
The existing system was reaching the end of its working life - work to procure and install a new system is ongoing.
Lift renewal - Broadholm Street
The aging lift at Broadholm Street is nearing its anticipated replacement date - survey work supported by City Building is ongoing to identify options for replacement.
Balcony Upgrades – Carron Estate
Works are now complete for stage one of this project, covering a number of properties at Carron Place.
CCTV
Maintenance and upgrade work is ongoing at various locations including Lenzie Terrace, Ned Donaldson House and Vulcan Street.