Good governance is a cornerstone of our approach to business and all of our Board and staff members are responsible for maintaining our performance. We have an effective governance framework in place with high standards on audit, risk, probity, governance and health and safety.
ng homes is run by a voluntary Board. It has a maximum of 15 places; 11 designated for local community members, up to 3 places for independent members and 1 place for a nominated Glasgow City Council elected member. The Board is the governing body that controls ng homes. The Board is responsible for the strategic direction, setting standards, monitoring performance and the effective running and financial management of ng homes and is the employer body, with senior staff accountable to the Board.
Board and Sub-Committee Members have the requisite skills, knowledge and awareness to carry out their role in a confident and effective manner. Some business areas with a more operational focus are delegated to Sub-Committees, and activities of a more commercial nature are delivered via wholly-owned subsidiary companies within ng homes' group structure: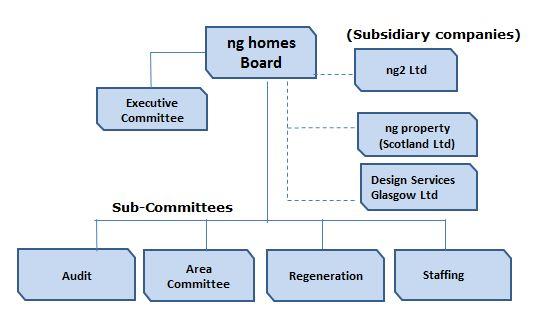 Executive Committee
Comprises office bearers of ng homes' Board plus Sub Committee and subsidiary Chairs with the remit to plan agendas, co-ordinate across the Group and deal with emergency business.
Audit Sub-Committee
Reviews the financial affairs of the organisation, effectiveness of risk management and internal and external audit.
Regeneration Sub-Committee
Oversees the implementation of the regeneration strategy and programme, approving and monitoring individual projects and reviewing progress against target outcomes.
Staffing Sub-Committee
Considers staffing and organisational development, training, and health & safety matters.
Area Committee
Comprises a mix of Board members and tenant/residents, monitoring local performance for housing service delivery, estate management, repairs and maintenance.