If any of your gas appliances leak, they could be releasing carbon monoxide into your home, causing serious illness or even death. Carbon monoxide gas has no smell or taste. The only way to stay gas safe and be sure appliances are working as they should be is to have them serviced every year.
Annual Servicing
Each year we will need to carry out one gas safety visit to your boiler. Not only does this keep you and your neighbours safe, but it also makes sure your systems are running as efficiently as possible to help keep your fuel bills down.
The service should take less than an hour and we will make an appointment so you know when to expect us. If it's not a good time, let us know and we'll rearrange.
Gas safety visits - our responsibilities
As a landlord, we must make sure all gas appliances are safely maintained and checked once a year. Our gas service engineers need access to your home to carry out the annual gas safety check.
By law, we must carry out a service annually (every 12 months). We will normally be in touch 10 months after your last service to arrange an appointment and make sure that the check is completed before the anniversary date.
All of our checks are carried out by a Gas Safe registered engineer - they all carry an ID card. You can always call us to check that we have sent the engineer to your home, but you can also check an engineer's qualifications at Gas Safe Register or call 0800 408 5500.
Gas safety visits - your responsibilities
Note that before the service can be carried out it is your responsibility to ensure you have credit on your gas and electricity meters, as the service cannot be completed without gas and electricity being available.
Please make sure you are home at the agreed time and allow access to your home in order for us to carry out the service.
Reporting a repair
Boiler issues can cause headaches, particularly during the colder months. Fortunately, regular servicing can help prevent many of the common issues - and should a breakdown occur, a registered Gas Safe engineer should be able to easily fix any problems. You may find this booklet on common boiler issues and advice on what you should do helpful.
If you think your boiler needs a repair, please check the following questions before calling:
Can you see a light on the boiler control panel?
Is there a fault code on the boiler?
Do you have hot water?
Does your heating work – if no, have you tried increasing the thermostat?
Do you have any other gas appliance (such as a gas hob) and, if so, does this work?
I need to report a repair - what should I do?
If you need to report a breakdown, please ensure that you have sufficient credit on your meter before getting in touch with City Building on 0800 595 595. You can also call us on 0141 560 6000.
We'll arrange for a gas engineer to be with you within four hours to deal with any breakdowns in line with our emergency and urgent repairs procedures.
If you do report a breakdown, please ensure you stay at home to allow access.
Keeping Safe
If you smell gas, follow these simple steps straight away: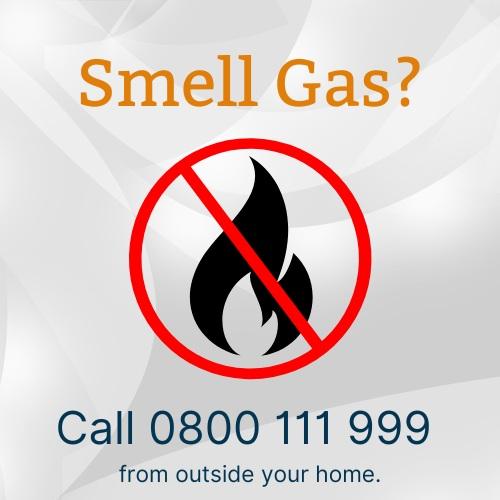 turn off all gas appliances
put out any cigarettes
open all doors and windows
don't use matches or naked flames
turn the gas off at the meter
don't switch on any electrical switches or appliances
don't press buttons on the door entry systems.
Call the gas emergency helpline as soon as you can on
0800 111 999.
In the Know - Carbon Monoxide
Carbon monoxide (CO) is a poisonous gas which has no taste, colour, or smell. It can make you feel seriously ill and can kill quickly without warning.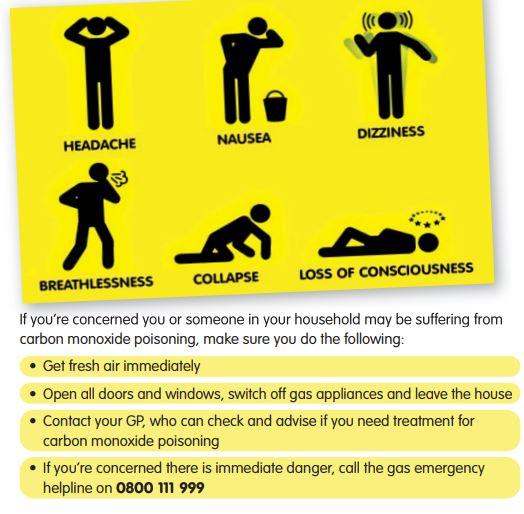 What are the signs of a carbon monoxide leak?
Carbon monoxide can be produced when poorly maintained, incorrectly fitted or badly repaired appliances do not burn gas completely.
Look out for the following signs that could indicate that a gas appliance is not working correctly, and CO may be present in the house:
Floppy yellow or orange flame on your gas hob, rather than a crisp blue flame.
Dark, sooty staining on or around gas appliances.
Pilot lights that frequently blow out.
Increased condensation inside window.
You experience symptoms similar to the flu, food poisoning or fatigue which clear up when you leave the house.
Find out more about how to stay gas safe: Carbon Monoxide and Gas Safety Information